Bunty makes clay curiosities. 
These vagabond Trini Pothounds are always
clamouring for a home, bark bark!
Five acres of vibrant tropical gardens provide
ample inspiration to Bunty and visiting artists.
Welcome to Ajoupa
Ajoupa Pottery was created in 1987 by Rory and Bunty on the site of an abandoned Pottery in Chickland Village, Trinidad. We produced original figurines, depicting country life, from locally dug clay. All work was handmade by a team of dedicated men and women. The original Pottery was closed down in 2010 due to the heavy hand of globalization, which put many craftsmen, all over the world, out of business. Ajoupa Pottery can be found on e bay. Turn it over and find the stamp "Ajoupa Pottery".
Rory built a new much smaller studio not far from the old workshop. Bunty started experimenting with glaze making and Raku firing. Workshops are offered in the first part of the year in Raku pottery and mosaic making. Bunty's work covers large sculptural pieces, mosaic panels and tabletops and smaller work. Favourite pieces at the moment are the Trini Pothounds that are Raku fired to give them that adorable scratchy, muddy, patchy look that characterize our stray dogs. Every dog is different! And cats too!
Rory has set up a woodworking workshop. He makes benches and thrones from slabs of fallen trees. The 4 acre garden is a constant work in progress that needs all hands to maintain. There are birds to watch and trees to hug.
In July and August Adam joins us from Canada where he teaches pottery. He uses porcelain to make cups and bowls in his large gas fired kiln.
We are open most days, but call first and make an appointment. We look forward to seeing you.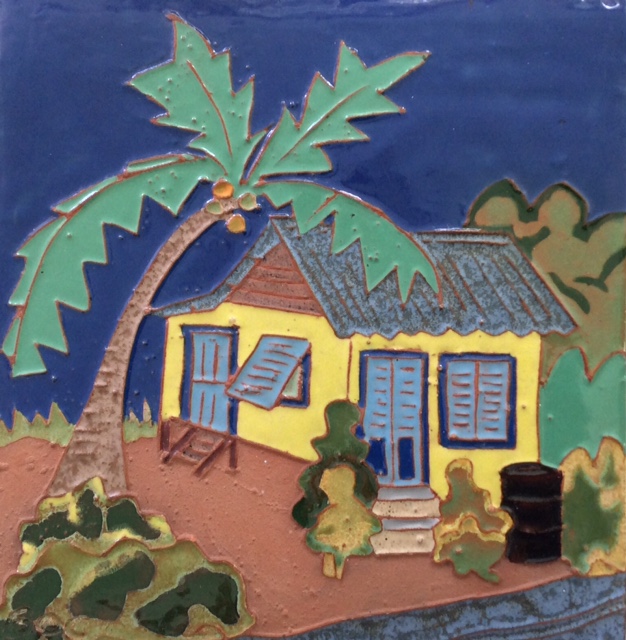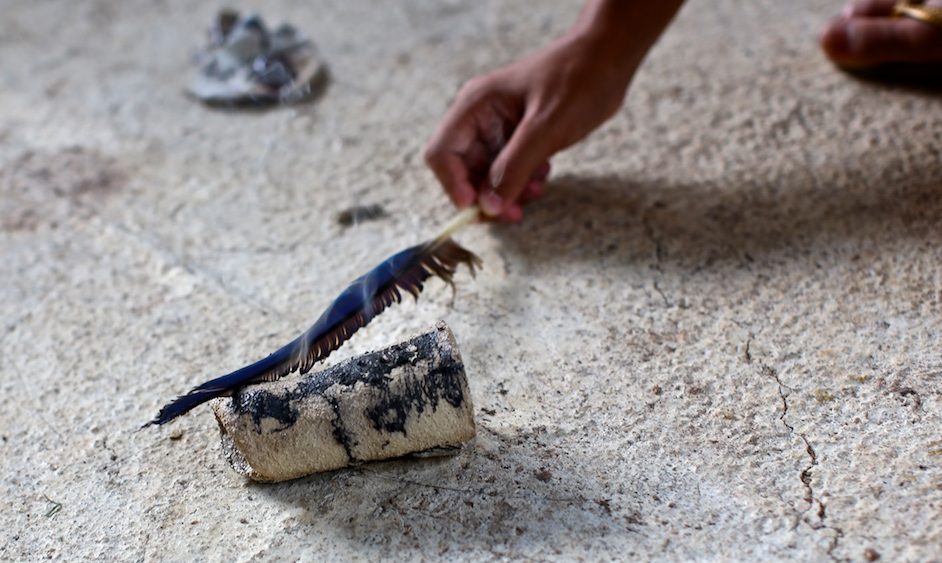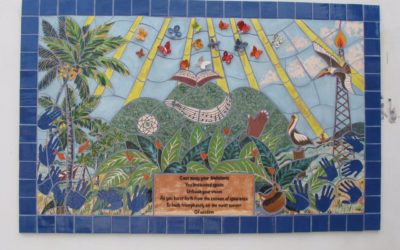 We recently installed a Mosaic at Guayaguayare Government Secondary...
read more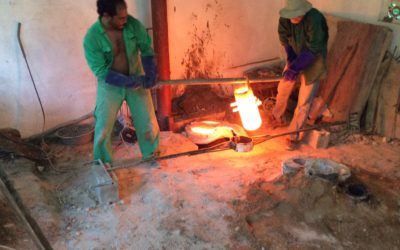 Casting bronze in Tobago with Rory and...
read more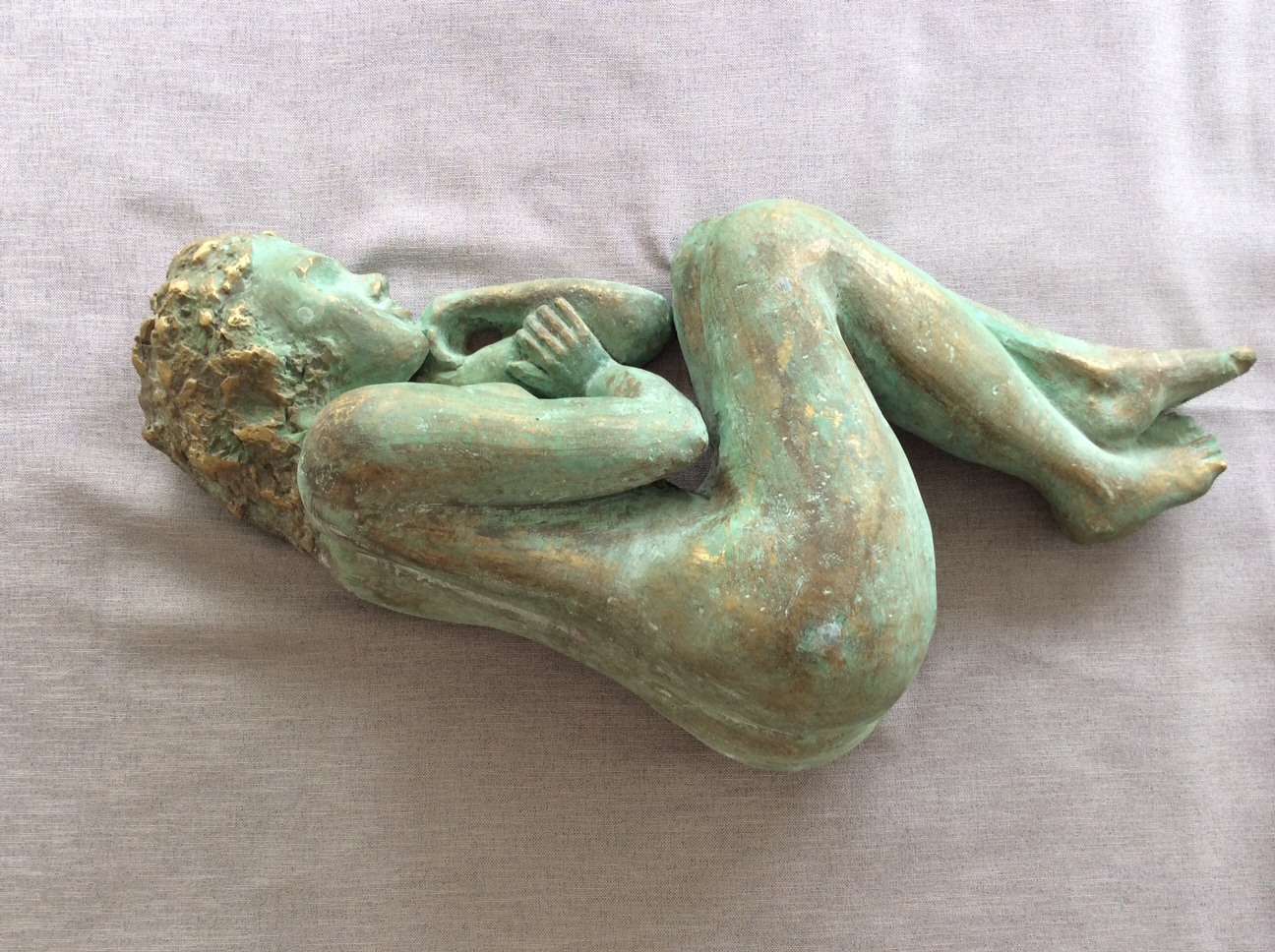 Open Studio
Every year we get together with friends for a weekend to showcase the special work that we produce throughout the year. We invite you to come and browse and buy. You can bring a cooler and folding chair and spend the day exploring the garden or just sitting in the shade and listening to the birds. It's a great way to relax and breathe some fresh air. There are walks throughout the garden, so wear sensible shoes and insect repellent is recommended! Please park outside the gate.
Open Studio this year is on Saturday 10 and Sunday 11 November from 9 am till 5pm.
People get lost in spite of google maps, so call us on (868) 673 0605 and (868) 705 9693.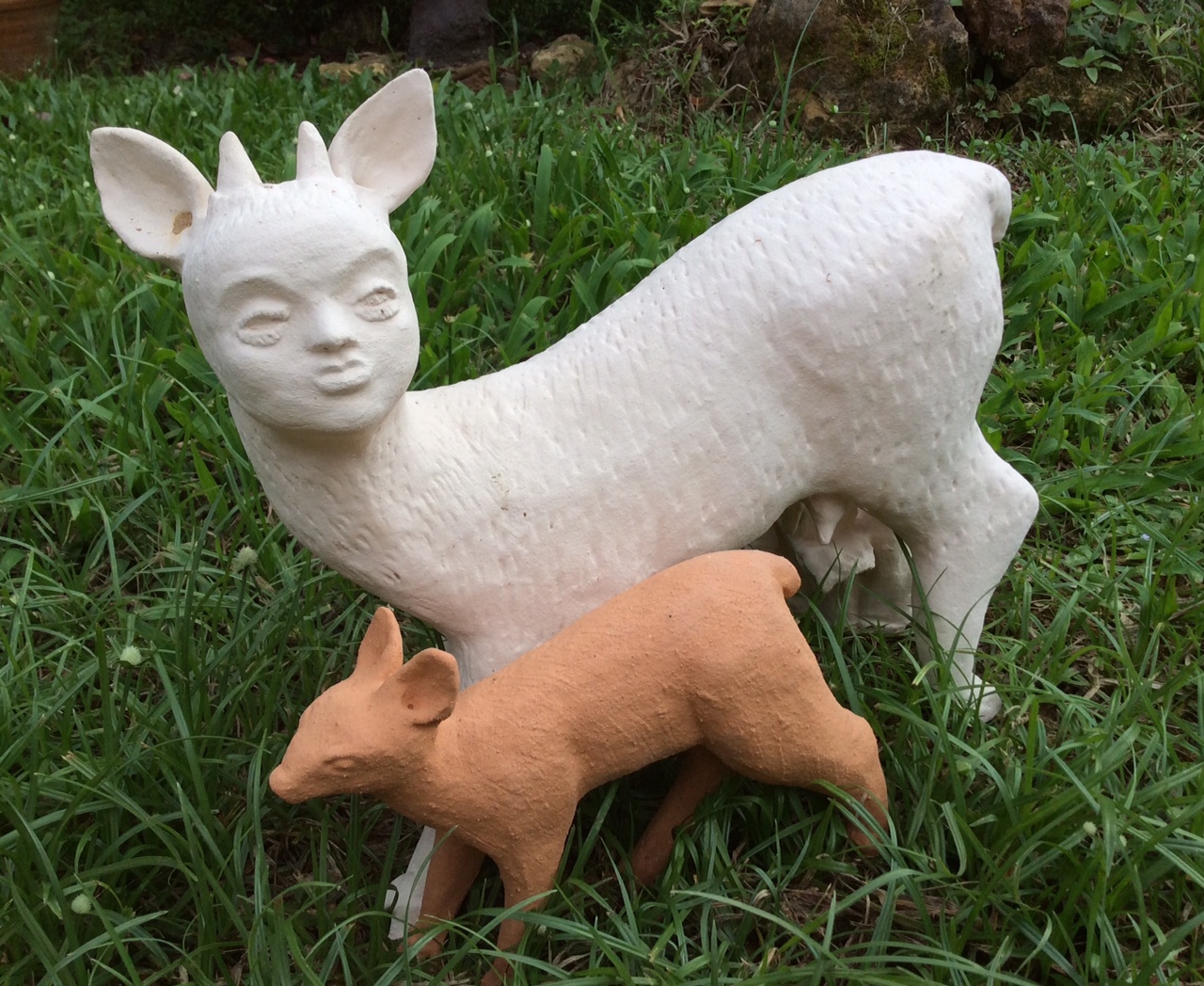 Workshops
Learn to make mosaics. Create and fire clay pieces in a Raku kiln. Workshops at Ajoupa are an unforgettable experience.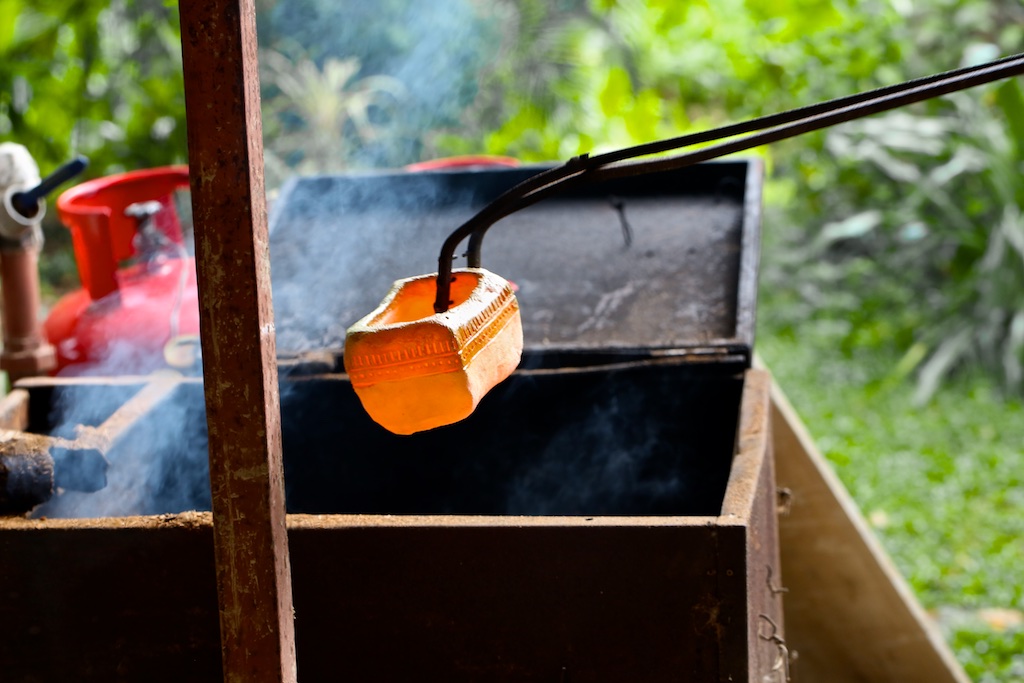 Raku Workshops
Raku is the Japanese art of making and firing pottery. It is easy to make pots or small sculptures by hand with the clay in a playful way even if you have never made pots before. During the week your pots dry and are fired, so that they are ready for glazing on the following Sunday. The clay pieces are fired in a gas kiln so that the whole process can be seen and experienced in just a couple of hours. Because of the way the pots are fired, the resulting finish can be very surprising. Raku is a great way to break through inhibitions and appreciate the magic of the random. It is a very satisfying experience.
The workshops run for two consecutive Sundays from 9am to 4pm. Please bring your lunch. We make fresh baked bread and serve juice, coffee and tea.
All materials are provided for the workshop.
Course cost is $2000 per person.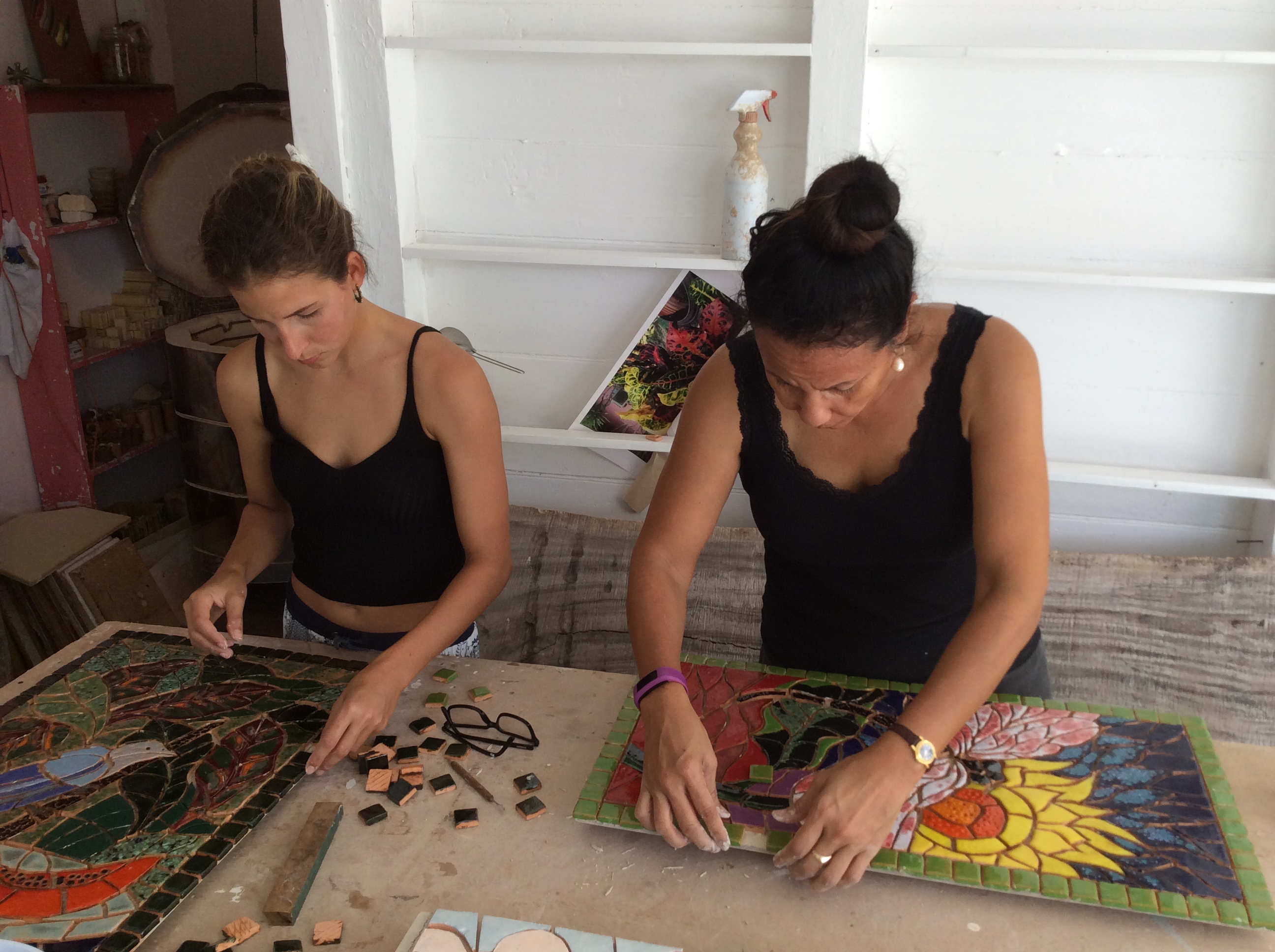 Mosaic Workshops
Learn to create stunning ceramic mosaics. Take away your creations. Our next workshop is scheduled for November.
Contacts and Location
We are located in the rolling hills of the central range of Trinidad in the West Indies. Find us using the map below. To contact us directly, call (868) 673 0605 or (868) 705 9693. You can visit us by appointment only.